Quality Painting & Home Repair
925.969.0133 & 707.746.7958
I am so VERY pleased with the way everything turned out! Thank you so much for your help; and for providing such great professional and competent talent! I'll be in touch again with additional projects I have been hiding from, now that I know I can depend on you and your team.


- Deborah F
Thank you for the great work you have done for me. It puts a big smile on my face to see my project completed.


- Judy R, Benicia
My husband & I are very appreciative of your efforts, good work and friendship to help us will all the jobs needed in our house recently. Thank you for doing such a fine job.


- Maria T M, Benicia
Larry & I want to thank all the "Husbands" for the beautiful job you did transforming our daughter's old bedroom into a welcoming guest suite.


- Regina, Benicia
There aren't enough words to thank you! You've taken a mess and helped turn it into a masterpiece. Your expertise allowed us to trust you and the results were astounding!


- Ray & Vicki, Vallejo
You provided a beautiful job, completed on time and has received many positive comments from friends & neighbors. I will highly recommend you.


- Ray Z, Pleasant Hill
Thanks again for the nice work in the garage. We love it!


- Carla, Benicia
This was the best experience for house repairs we have ever had. The efficiency, the expertise and especially the courtesy and care of the workers did not go unnoticed !!. Thank you again. We will call again!


- Jim & Chris B, Vallejo
Thanks so much for all your hard work in my house. I love my "new" bedroom.


- Cathy S., Benicia
Thank you for a wonderful job. You have made my "sanctuary" more beautiful and enjoyable.


- Carol T., Benicia
Thank you again for your help in correcting the previous painter's mistakes. The garden room looks great.


- Louren L., Vallejo
The young men who came to our rescue were terrific. We are very pleased. We will definitely be calling you again.


- Anne V., Benicia
Thank you for the excellent work, timely and prompt service.


- Steve E., Vallejo
Thank you so much for your help. Your guy was polite, professional and did a great job.


- Betty E., Vallejo
Thank you for such a great job, and for being so pleasant to work with.


- Mary M., Benicia
Thanks for another fine job.


- Tom L., Vallejo
Thank you for all the work on my family room. It was a pleasure to work with you and your crew.


- Karen C., Vallejo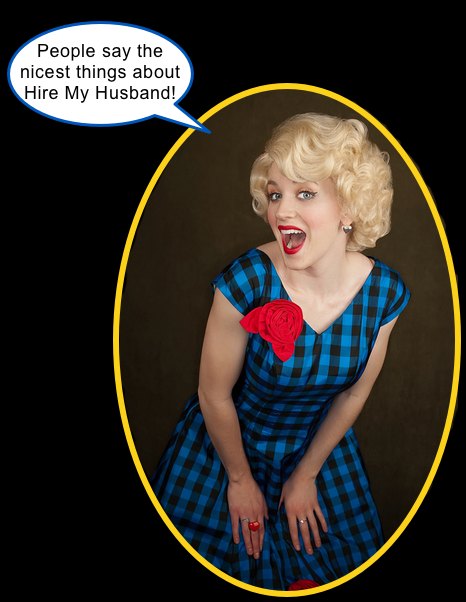 Read Lisl H.'s review of Hire My Husband on Yelp